Thanks to everyone for your feedback…  I think the last post was probably a bit much, but I'm glad you're all following along, and can get a sense for what we're doing here.  We're so caught up in it now, it's easy to get lost in all the details when you're "writing".  Maybe that's the definition of a blog?
So things have now hit an easy pace.  Since we made the decision to go with "plan B" (as my mother has named it), we are well into the process of applying for the construction loan.  Just hoping that goes our way and we can get the funds we need to start working and make this all happen.  We seem to have found a really good lender after all of Bill's research.  So far much more responsive and communicative than our buddy at US Bank, but I will still reserve judgement as I have not met a good mortgage officer yet.  Anyway, we're back in that loan process and I'm so tired of digging up paperwork, I could cry.  On top of all of that, it is tax time.  As I mentioned, we hired a tax guy, and for the first year we are not doing our own taxes (or I should say BILL isn't).  In 2014 we refinanced our current home (before we EVER knew we would buy the new place or would never have done that), took out the home equity loan, and purchased the new place.  All in one year!  Then MagnaMemos has just grown and grown.  All of this combined has made the taxes a nightmare.  Time to outsource.  But it is mounds of paperwork too, so that's been fun at the same time as applying for the construction loan.  ugh.  Then the worst part…  My company car benefit is going away and I am forced to go on a reimbursement program with which I have to get my own car.  Haven't done that in about 15 years.  I know, I know, I am lucky that I still get reimbursed for most of my car, but in the scheme of our financial situation, going out and getting a car loan was not exactly good timing.  Went ahead and did it, just completed that process last week and took delivery of my leased car on Friday.  Gonna have to explain to the mortgage lender why I would go out and lease a new car while applying for a construction loan.  Makes me laugh just thinking about it.  She must think we're crazy.  So all in all, we are at a good place and it feels good to be moving in the right direction.  HOORAY!
Next up, details on design…  So plans are complete for the house.  We made some last minute changes to the kitchen and our designer prepared to submit to the city for permits!  Unfortunately, that was three weeks ago, and they ran into a problem.  When he tried to submit, they had an issue with the sidewalk plan.  Many of the lots/houses here are without city sidewalks, and whenever you do this amount of work to an existing property, the city requires you to put in the sidewalks and reroute any drainage etc..  We have to pay for it (most of which will be shared with the back lot, so we will recoup those costs later), and there was some issue with the drain that is currently there and the way that has to be handled.  The engineers are working on it, but it has delayed the submission for permits by a few weeks.  I hope they get it resolved soon as it is spring now and the city is getting flooded with permit requests.  Normally the permits will take 2 months, and then we can start work on the house as long as all is well with our loan.  So esentially, we are working on the loan, and waiting for city engineering issues to be resolved before submitting for permits.  At least it's a "calm" time.  Hope is to start work by late summer and maybe we could be in by early next year.
The design of the house is great, we are so happy with what we have put together, and now we're starting to talk details.  Met the builder over at the house the other week, and starting talk regarding finishes.  Not any decisions, but directionally what we are and aren't ok with.  This helps him refine his costs and start getting us in the right direction stylistically.  Sort of a kick off meeting to get us thinking of how we want the inside to look.  Pretty cool, and he left us with a lot of materials to look through (photo below) and of course I'm using Pinterest and Houzz to get ideas.  Feel free to follow my Pinterest boards (all titled 1714…) if you want to see more of our thoughts on design (@magnamemos).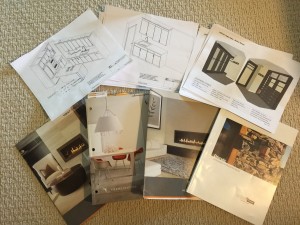 We're all about white trim, windows and doors, and with all the windows want a really light feel without being too contemporary or modern.  We really compromised with the outside look of the house in order to maximize the view.  It looks much more modern than we would like, but it's really the best design for the space, so we want to inside to be more traditional.  Should be interesting to see if we can strike that balance.  Most if it will be us educating ourselves on what we really want and using the right terms.  Here's a photo of one of the other houses they have done.  Ours will look very similar in design on the outside.
So I introduced the concept of the monolith last post (the birth of one), and I think it is a funny thing.  To answer Anne Norton's question, yes!, it seems to be a Kirkland thing!  So our designer is big into this idea of the monolith.  Esentially a design element of a chimney of stone on the outside that carries into the inside of the house.  Translation: An exposed chimney that sounds more "designer" when you call it a monolith.  LOL.  But it's a statement thing, and they have done them on other houses and it is really cool.  We're into the "indoor/outdoor" living thing here, and it fits well into that concept.  So attached below are a couple of photos of the other houses they have done and you can see the monolith.  This will actually be a key element for us for another reason.  It will be our way to give some softer more traditional feel to the outside of the house.  With the sloped roof and more modern look, we think the stone we choose for it can tone that down a bit.  Then it will also look really cool on the inside.  In addition to that, I have been joking about having a "barn door" as the door to my office, and the designer said that he would actually like to see that too.  Bill is not a big fan of this idea.  I think if I take out the word "barn" he may like the idea more.  My office is going to connect somewhat to the inner side of the monolith, and the idea is to have a big floor to ceiling door that is connected and will be the feature element in the house.  Of course the designer wants something that everyone will say "that's cool", but we have to see if budget allows.  Cool thought though.  I really want a barn door, or no, "large designer sliding door".
The house here is two doors down from us and has the "monolith"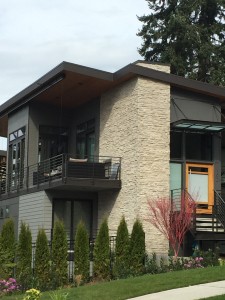 Here is a monolith from ancient times that I found when I googled the word monolith (or "bing'd it for all my MS friends – so tired of lying to all of you that I use bing)…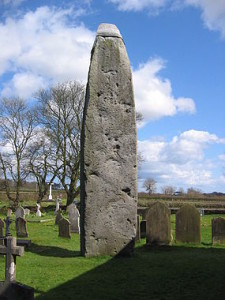 See the similarities?  LOL
Now this photo is really tiny (could not get a larger one), but shows how the monolith carries into the inside:

Here's another outer shot of a monolith:

So we have to choose the right stone for our monolith, and that will come in time.  Big decisions…  I have said the word monolith enough for one day.  Moving on.
Other things we're contemplating…  Right now the big debate between Bill and me is about having the cooktop on the island in the kitchen.  I'm not a big fan of having it there, but it may be our best option, and the alternative is to have the sink there.  Bill hates the idea of dirty dishes sitting out on the island.  I do agree.  Our kitchen is going to be essentially the same size as ours now, but much more open and the configuration is something I really want to get right since we cook so much and spend so much time there.  Funny the discussions you get into heavily.  The tape measure comes out about once a day as we try to get a sense for how things will look and feel.  I'm sure it's the first of many debates to come.
Another discussion that came up was the height of the ceiling in the downstairs bedroom that is going to serve as our workout room.  We were at the house the other day and it occurred to me that we are not raising the ceiling in there at all (it's at "garden" level), and Bill's head could potentially hit the ceiling when he's working out on the elliptical machine.  Ouch!  Measurements taken and questions raised, I think we'll be okay, but sure glad I asked!
Last one is that we decided we want to keep the wood burning fireplace that already exists on the lower level.  I think this may make our designers head explode as he already told the builder he didn't like the esthetic of keeping the existing chimney, but too bad!  HA!  The builder really wanted it too, but designer talked him out of it.  Could be a battle, but how awesome would that be?  We're excited for that one.  Could also save us $ in not having to remove the chimney.  Nothing like a wood burning fireplace.
So right now, just getting ideas, debating, debating, and searching for inspiration.  Oh, and waiting.  Thanks for reading!