Last post I wrote was on July 14 and I was away on a biz trip.  I said in that post that I thought it would be interesting to see how things looked when I got back.  I know this builder moves fast and I knew it would be a challenge to keep up and/or not miss anything.  When I left, this is where we were.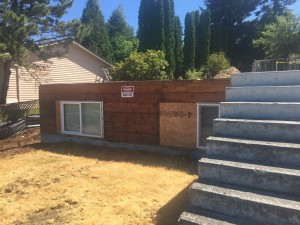 Bill was with me for part of the trip, then went on to his own biz trip, so we were both away.  Bill got home before me, and went over to the house the same day to see what progress had been made.  So I'm in a meeting, and he sends me a text with the photo below.  I fell off my chair and then almost cried.  We have a house!!!  Wow, unbelievable!  It is so amazing to see it take shape.  Seeing it on paper is a thrill, but when walls start to go up, it is unreal.  The framers started the week of the 13th I think, and today is the 28th, and they are pretty much done except for a few walls Bill and I want to move…  Wow, never thought I would be collaborating on where to move walls.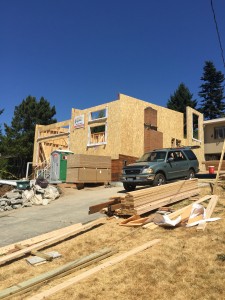 Last week we were both around here for the most part and got to go by a couple days and really see the progress.  So we had the outer walls up…
…and then the insides start to come together.
Maybe too much focus on Karen's office and studio?  Ok, let's see how Bill's doing…
Our builder saw an opportunity to save a bit of money by leaving this cement wall intact (which is the foundation of the old house) instead of knocking it down so the wine room could extend to the "underground" cement area as originally planned. It was tempting, but this is just not an item to compromise on at this point and the room would be quite small..  So down came the wall!  A guy named "Tex" does the work.  Messy, messy work, but this guy is good.  Then the pieces have to get jack hammered and hauled out.  The neighbors must love us.  I think I will be baking a lot of cookies when we move in to apologize for the disruption of this very loud construction.  But this wine room is going to be nice size.  It is just for storage although the builder would love to make it a showpiece.  Not our style, sorry…  But on the outside we are considering a little bar area with a mini fridge with a wine barrel incorporated into it as a focal point, so that will be cool.  We don't have a lot of those kinds of elements, so good to have at least one.
So as each day progressed, it took more and more shape, so here are some photos from yesterday.  Ceiling is going in and final walls (that are up for discussion) are drawn out or temporarily set in place.  Gotta make some big decisions.  It's starting to come alive and have a "feel".  It has a really good feel and we are loving it.
So here is the outside.  You can see on the left that the deck is starting to take shape and you can see the cool angles of the roof.  Called a "butterfly" roof with the two sections that go different directions.  The cool thing is that whichever way the roof slopes is the only place you need to have gutters, so you don't have to put them all around.  Ours will be on the front for the most part as the overhang above the deck slopes forward.  We will have good coverage there allowing us to use the deck most of the year round.
What else can I say?  I guess I can say that this is consuming most of our mental energy.  There are so many things to think about, and we are trying to strike the right balance of what we need to be involved in and what we leave up to the builder and designer to decide.  We trust them so much that we have stayed out of most.  It is really a great collaboration and although we had our rough patches early on, the builder has proven to be great so far.  Every time we doubt something, we have our confidence rebuilt by seeing the progress and seeing how detail oriented and serious our team is.  We are having fun with this now, but exhausting all the same.  If we're not having a meeting about something that takes up a good chunk of the day, we're researching something or refining details.  Still a LONG way to go too!
So a few other nuggets completed:
Appliances all picked out
Framing mostly done and next is electricians and plumbing.  Bill's "AV Navy" will be in next week too to do a walk through on where TV's, speakers and other stuff will go.
roofers coming this week
finalized kitchen measurements and final touches on design done and cabinets ordered
picking out front door in process.
windows getting installed
patio configuration???  Here is a photo of the back patio area (soon to be party zone).  Thinking about pavers and a two tiered deck.  Will be an overhang off that door that you see straight ahead which will be a covered area for the grill in the rare event of rain.  😉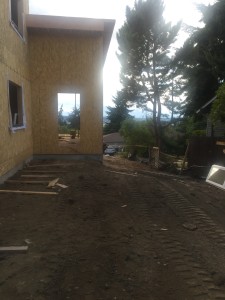 Discussion on earthquake (seismic) considerations.  Of course this is the talk of the town now after the New Yorker article.  It may not matter if my house stays standing considering everything that will happen as a result of the huge earthquake that is assured to hit here, but good to know our house is bolted firmly to the foundation.  You should see all the stuff they do for this, amazing!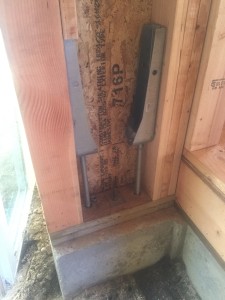 Last, but certainly not least and for those of you who have actually stayed with this post the entire way through, congratulations, you get to hear this…  We do not and did not have our current house on the market, but we got an offer.  Shows the insanity of the real estate market here.  Most homes are not even hitting the market.  Basically a networking thing where we were talking to a real estate agent a while back and mentioned our house would soon be on the market, but we were waiting for our new house to finish.  We told her that it would be so great if we could sell now and have someone rent it back to us, and amazingly enough, she had a client that was interested.  We connected a few weeks later, and while Bill and I were away on our trips, we received an offer.  If all goes through, we will close the end of August which would help us out a lot by getting us out of one mortgage and an equity loan.  Can't tell you how much time and energy it will save us if everything works out.  Totally amazing.  I won't say much else at the risk of jinxing it.
Signing off now, I'm sure there will be many more developments in a very short amount of time!
Thanks for reading, I hope you enjoy, and feedback is welcome.