Won't be months in between posts anymore (a shout out to all you nay sayers – Bob Anderson), 'cause things are happening now!  We officially have permits now, got that word on Friday, but nonetheless, work that does not require a permit (mostly demo) has been well underway, and the builder will be converging on the site first thing monday morning to kick start the main event.  We had one last requirement before permits were issued Friday that involved the two apple trees (or as the designer says "those two stupid apple trees") in the backyard.  We had to show that we are keeping them and that they are protected with fencing.  Then the city had to send someone out to inspect the fencing to make sure it was enough.  They were not happy about the fencing at first, now I guess what you see below is better.  OMG.  This kind of stuff cracks me up.  Our city at work…
So once we had the apple trees protected, we said "can we have our permits?"  Yes, if you sign this paper and that paper that state you are keeping this and that on the property.  If you go to city hall and have these papers notarized, pay some more fees, salute to the west, and stand on your head we will issue your permits.  Goodness what a process.  Thankfully we are paying someone to do this.  If we were on our own, we would be far from here.  End of the day, we have permits, and now the real fun begins.
Hopefully now that we have our loan and we have our permits, all the "random" bills we have been getting will slow down.  It seems like every time we turn around someone is handing us a bill for some soil test, asbestos abatement, engineering survey, a survey of the survey, lead paint evaluation or some permit or another.  We have done like so many before us and just nodded and paid because trying to really understand it all is futile.  At some point we should sit down and figure out how much $ we have paid so far even before getting our construction loan.  It could be staggering and really depressing.  But anyway, on to demo photos!
Check out the newly asbestos free lower level complete with graffiti and a workstation.  Love it!  All our plans are layed out on the table and I'm so glad they are remembering their safety with the fire extinguisher and caution tape.  They better be careful or the caution tape will disappear, I can find many uses for that.
And all the old doors stacked up in the upper level.  I think the builder donates these somewhere or something…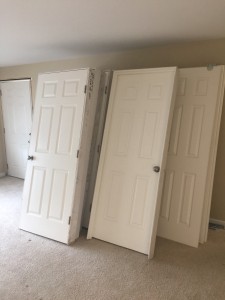 And you know things are moving along when you have a big pile of crap in your master bedroom: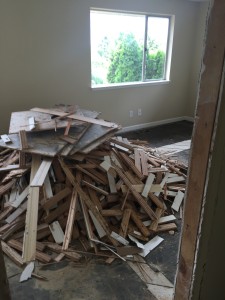 Bathroom that will be totally demolished.  Part of this space will be our kitchen one day.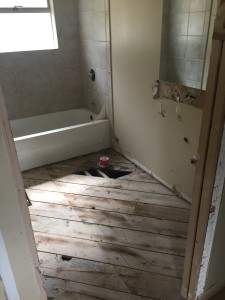 And meet Adam ('cause we just did this day), who is our project leader and the main man for our project.  Today he was cutting around the windows which will be removed as part of the demo work.  He cuts around the window through the framing to remove it so they don't have to deal with the glass.  Interesting.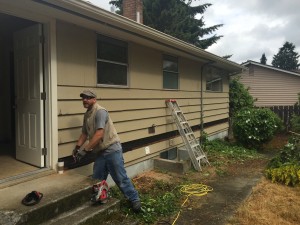 And I still do love my honey bucket…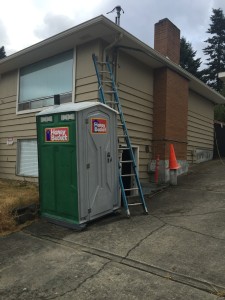 In case you are interested and have good eyes, here are the most updated plans.
We are meeting with the interior designer again tomorrow, and we probably need to start making some firmer decisions on some finishes pretty soon.  Things are going to start moving quickly now, and hopefully we can keep up and I can document everything on this blog as it happens.  Tomorrow should be an interesting day as demo really gets underway, I hope I don't miss anything!  Can't miss the day the roof comes off.
Stay tuned…