Latest update, not terribly exciting, but definitely moving fast…
Demolition complete
Many dumpsters filled and dumped
Big hole dug in for the addition
Lotta dirt moved around
Siding removed
Lower level rough framing
Lumber for remaining framing delivered to site
Foundation for addition poured
Windows ordered and near arrival
Outline of Bill's wine room in lower level laid out for his inspection (more on that in a minute)
Kitchen design finalized
More random bills handed to Bill and Karen
Main framing should start this week and in a couple weeks our roof structure will be delivered and placed on the house.  After that they will put up walls and then they will be to the point that the house will no longer be exposed to the elements.  Then the real fun stuff begins.
Our windows were ordered and are near arrival to the site, but when we heard this we were both stunned.  Neither of us remembers picking out window styles or anything, so that was a bit of a discussion with the builder.  Not sure how that happened, but I would have liked to see what I was getting before he ordered.  Just sayin'.  Not much we can do now but be patient, see how the windows look when they arrive and make changes if we have to.  I had a vision of sash windows or the crank windows, but what is ordered is the sliding windows which I don't like much.  Will be interesting to see what happens…
Happily with all the demolition, there have not been any issues.  The demo has gone smoothly and they have not found anything strange or anything that had to be dealt with outside of what we were expecting.  The lower level which is being reconfigured is already roughly framed out and it looks fantastic!  The only issue we had is that the hall is very narrow down there and makes the space feel cramped.  This is because we are not renovating the lower full bath, the bathroom sticks out into the hall a bit.  The builder agrees that it is not a good situation and is going to move the toilet and sink around a bit and that will allow him to eliminate the bump out into the hall and make the hall wider.  So glad we have a solution for that!
The one piece of the lower level that has not been framed is the wine room.  In an effort to save costs (the budget is very tight), a suggestion was made to configure the wine room differently.  We did not think this change would affect the size of the room, but when we looked at the outline before framing, we realized that it changed it a lot.  It is actually significantly smaller than what we have now.  Bill considered compromising on this, but I convinced him otherwise.  This is important to Bill (and also to me), and I'm not going through all this to compromise on something like that.  I would rather save the money elsewhere.  We sent a note off to the builder requesting that he build it the way we originally had it on the house design, and he agreed that he would do all he could to make that happen.  We will see.
Next up is that we have to start thinking about and then make some decisions on the following:
Front door style
Exterior paint
Interior paint
Railing color
Trim color
Stone style
Fixtures
Appliances
Photos of the lower level bathroom and how it sticks out into the hall: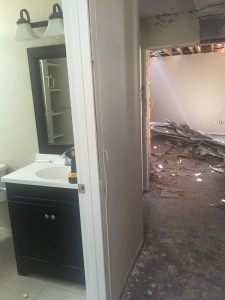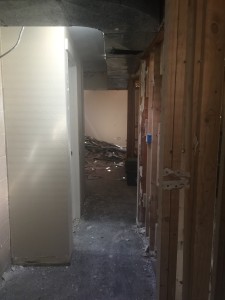 See how narrow that hall is???  That "bump out" on the left is coming out…
Big hole dug for the foundation, and then foundation pouring started:
As you can see, that big building in the back is the garage.  It has a huge workroom on the top, and the builder is keeping it standing as long as possible as it is full of building materials and LOTS of other junk.  I think it is also infested with rats, so as part of our permit approval, we had to agree to not tear it down until the rats were "eliminated", otherwise the rats will just run to our neighbors houses when they tear down the garage.  WOW.  Who knew?
Naked house (siding removed):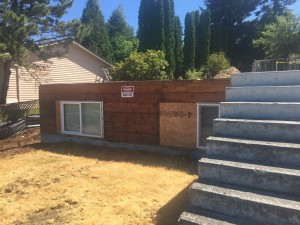 Here is the finalized kitchen design:
The sink used to be where the refrigerator is (right), but we decided to move it to the left so we could put a window in for more light.  I LOVE the way it turned out.
You can see some of our selections of finishes on my previous post, but cabinets will be white, countertops will be whiteish gray swirl backsplash will break up the white with a bit of light green and gray accent tile, and island will be bluish grayish whiteish swirl on weathered blue/gray island cabinets.
See here: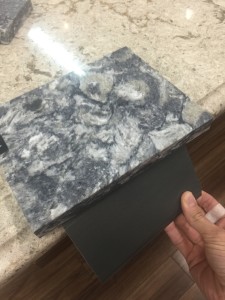 And look, it is the start of the MagnaMemos new studio!!!
We're both away on business trips, so it will be interesting to see what things look like when we get back.  Things happen so fast that if you leave for this long, so much has happened.  We don't want to miss anything, but we have to work!  I know I will be snapping photos like crazy this weekend when we go over and see what's happening.  I'm sure the plywood floor will be in and some framing started.  Very exciting.  This is the point when things really start to take shape and we can get a good feel for how the space will flow.  That has already happened in the lower level and anxious to see how that starts to happen in the rest of the house.  I will keep you all posted.
Lastly, there has been some discussion about the sale of our current home which is something we need to start thinking about, but I will write more on that next time.  I don't want to get ahead of myself.