These past few weeks have been so intense and filled with a range of emotions I have never experienced.  Luckily most of the emotions have to do with the excitement and joy of the final aspects of our year long "project" coming together but still takes a major toll.  We are ready.  We are more than ready.  Ready for the sleepless nights to end.  Ready to not be living out of boxes.  Ready to not get pulled in 50 different direction all in one day.  Ready to give my full attention to just one thing.  Ready for some routine.  Ready for some peace.  Ready to stop bleeding money.  Ready to see all the things in my head be right in front of me.  We can't wait, nor can we even believe we are here.  As George Constanza would say "I'm bustin' Jerry, I'm bustin'".
The house is almost done.  Our move is scheduled for monday the 23rd and I can barely believe it.  We finally got the power connected a few weeks ago and I screamed with excitement the first time I walked in and there were LIGHTS ON!  It was amazing.  Almost a year of walking around there with not lights and could not go there at night, and it takes on a whole new feel.  Amazing.
The finishes are pretty much done and we are down to the nitty gritty of all the little stuff that the crew strives to make absolutely perfect.  There is no "good enough" with this team, so any little flaw in paint, door not quite level, light bulb missing is being attended to with excruciating detail.  Very impressive and although we have blown the budget by far, we know it will all be worth it in the end for what we are getting.  The cleaners were in last night and the painters are doing touch ups today.  A few last plumbing and electrical items will be seen too over the next few days and we are fine (although the builder is not) with a few items that may have to get done post move.  No big deal, just get us in.  Everything I speak of here is on the inside.  The outside of the house is another story.
Throughout this project, I have made reference  to the sidewalk issue.  As a refresher, when you do a "remodel" this large, the city of Kirkland requires that a sidewalk be put in if there is not one already.  There was not one, so we need to put one in and we have to pay for it.  Sounds like a great deal for the city…  Well, this has by far been the most complicated and expensive part of the entire process.  Engineers, surveyors, inspectors, designers, diggers, concrete specialists, and on and on and on have been working on this since we purchased this property in November of last year.  YES, it has already been a year!  Anyway, we did everything required along the way, and it would be one of the last pieces of our remodel to be completed right before we move it.  Everything was set, sewer lines inspected, catch basins installed, storm drains relocated, heavy equipment on site to do all this digging and moving (and be reminded that we are paying for all this), and they were ready to pour the sidewalk.  The sidewalk concrete would be paired with the concrete needed for our entry and then we would get our driveway installed, but then the worst thing happened.  City of Kirkland had a reorganization.  The inspector that had given us the blessing and approval to pour was off our project and we got the "new kid in town" that does everything by the book.  He came out and handed our builder a list of things that needed to be changed to the work we had already done.  Unbelievable.  Without a driveway, access to the house is limited and we are moving in a week (this all happened Monday).  WOW, what a blow.  Much of what was already done has to be dug up.  Sewer line has to be replaced and relocated and another catch basin (those HUGE concrete cylinder things you see in large construction sites) has to be installed (we have already put in two).  Not to mention a bunch of other stuff that he wants done.  All this for a city block of sidewalk.  We were taken aback, but as many people that build a house know, nothing surprises you when you get to this point.  I thought we were not going to be able to move as I thought it was going to take a very long time, but not the case.  They are working on it now and predict it will be done by next week.  WOW, it sounded like a 3 month job to me!  Only really put them behind a week and that is good news.  Not sure we will have a driveway anytime soon, but we found a way to work it so the movers could get in.  We are still on for the move.  Whew!  For your enjoyment, here are two photos of the masterminds at work.  You can see the mess of mud that is our front lawn.  And as a side note, the drought in WA is over based on the amount of rain we have had in the last two weeks.  It has been unbelievable.  That along with the power outages has not helped our stress!  It has delayed a lot and made it a real mess to get around the site and not drag mud through our new floors and carpet.  Two houses with no power for 1 day as we wind down toward a moving date in desperate need to get everything done was close to my breaking point.  I thought I might lose it but then Bill reminded me "one day at a time".  Gosh he's great…  😉
So I am going to do a video the day before we move in to document the final day and preserve what the house looks like empty and pretty much done.  I will try to post the dropbox link and email it out as well.  In the meantime, here are some photos to give you an idea of how it is coming together.
Here are some photos of the outside paint from sunnier days:
Accent wall in master: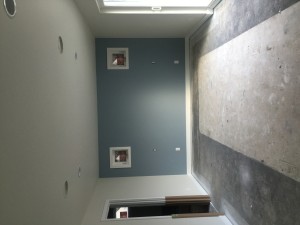 Kitchen is coming together nicely, and it's the only room where I have some issues.  I decided I don't like the crown molding and want the cabinets to go full to the ceiling.  Nobody would ever notice but me, but I am fixated on it now and they are going to change it for us.  It will be a bit of a project post move in, but I'm not happy with the way it looks, so we need to change it.  In addition, the section with the refrigerator and oven is a bit of a mess.  Long story short, it was mis-measured and does not fit well in the space.  The edge of that side hangs out into the living room a bit and looks awkward.  Because of that, the space between the fridge and oven is very tight.  The fridge doors hit the oven.  Very bad.  We are working on that now, but also will be rectified post move.  Frustrating, but issues are bound to happen somewhere.
Kitchen door to back patio.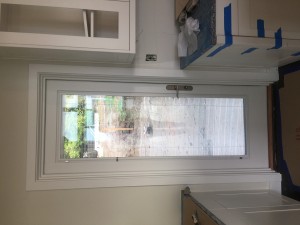 Art nook.  Kind of a "Bill thing".  I could have taken or left it, but he liked the idea.  I just don't have any art for an art nook.  Decided I'm going to put a framed photo of myself in it as a personal tribute to my awesomeness.  Love the art nook now.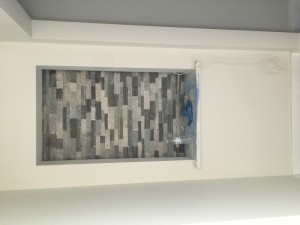 Karen's office door.  Sliding barn door.  YES!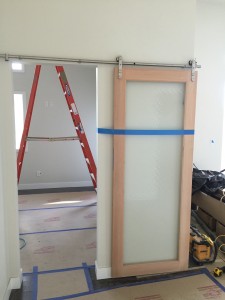 Front door.  LOVE!
Lower level family room and fireplace turned out great.
Laundry
Fireplace surround is done and is beautiful.
Not sure if I will post again before moving on monday.  But I will try to get plenty of photos between now and then as well as moving day and post after we are a bit settled.  Should be an interesting Thanksgiving at our house.  Planning on making something, but not sure what.  We will have to figure that out.
Enjoy and more to follow…