Oh goodness, gracious me…  You must all think we fell off the face of the earth.  My mother is even wondering where I've been!  Well, we have been in moving mode, in the zone, very focused, and now for an update on how it all went.
Moving day was hectic as you can imagine and turned out to be moving dayS as the company we used only has one size truck and we filled it with a fair amount of stuff remaining.  We did the main load on Monday the 23rd, and had to have another round on Tuesday the 24th to get the rest.  That was unexpected and frustrating, but in the end it worked out fine and the movers did a great job with minimal damage to anything.  Success in my book.  I did feel badly for them, however, as the conditions at the new house were not optimal.  We STILL do not have a driveway and had to use our neighbor's carport and a "runway" of plywood over all the mud and dirt to get to our garage.  They moved it all with no complaints and got it done.
Only casualty was our beloved leather overstuffed couch and chair which were going to go in the family room on the lower level and could not even fit through the doorway.  Major bummer.  But the beauty of still being a construction zone is that there are plenty of contractors/people/workers around in the market for furniture, so it did not take long for one of them to scoop it up and so it was not sitting in our garage for long.  Since we had sold so much of our furniture and belongings before the move, we were counting on that set to fill the family room, and now we were left in the market for ANOTHER piece of furniture.  Our credit cards are taking a beating.
So since I mentioned the condition of the outside of the house, I guess I will start there.  But perhaps there is really not much to say, so I will give you bullet points:
We still have no driveway.
We need to get the sidewalk done first to get a driveway.
The sidewalk can't go in until the curb is done.
The inspector keeps changing the rules and water lines, sewer lines and the curb has been moved several times.  Guy keeps giving a new direction each time he comes out.
The concrete guys have added fuel to the fire by pouring the curb incorrectly twice.
Curb has been torn out twice.
We are on the third pouring of the curb or portions of it anyway.
It is rainy here.
Rain makes dirt into mud.
In order to get to our cars parked 1/2 block away, we have to walk through all this mud.
Every contractor doing work inside also walks through this mud.
Lots of mud/dust/gravel/filth in our new house. 🙁
My favorite photos I have taken is of all these guys standing around for hours staring at the holes they have dug and contemplating what to do  next.  Ugh.
Okay, enough of that.  I think I have drilled that home enough and you all can get the idea of the situation.
Happily the joy of being in the house is offsetting the mayhem outside (except when I am working in my office and they are jackhammering the curb out for the second time and the whole house shakes).  The house is beautiful and better than we dreamed.  I snapped photos when we first arrived with our stuff in the truck as it would be the last photos of the house empty and "ready" for move in.  Check it out:
New fireplace in family room up and running:
Laundry room bubbles:
Gym:
Lower level guest bathroom (still a few things to complete in there):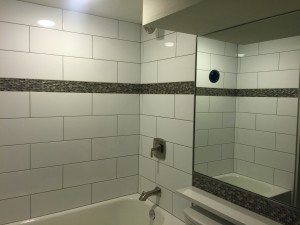 Family room lower level (door on the left is bill's wine cellar – underground:
Master:
My rule when moving is that the bed is the first thing to get set up.  After a long day, that last thing you want to do is make your bed up, so this was the first order of business: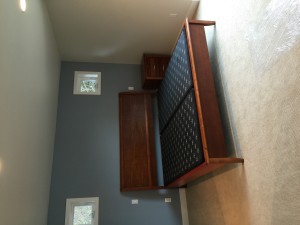 Attic storage area (sweet):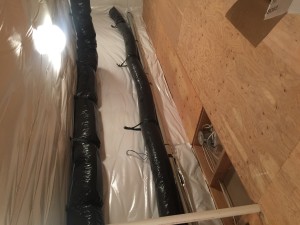 Bill office (house came equipped with a devils decal):
Still love my sliding office door!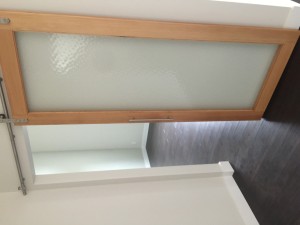 Kitchen:
Living: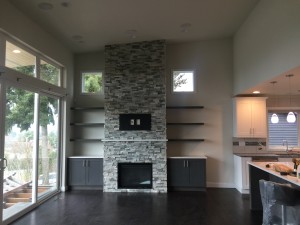 So we've been in a couple weeks and basically it has been unpacking and juggling all the things that still need to be done.  We're now down to all the little stuff on the inside and pretty much totally unpacked.  Adjustments that need to be made to fixtures, dents and dings that need to be repaired and things that were forgotten or are incorrect.  Lots of list writing and working with the site manager to coordinate it all.  I took a fair amount of vacation which was a very good thing as I could focus my attention on what needed to be done.  But as of Tuesday the 1st I was back at work and it has not been easy to stay focused when there is so much in and out and activity here.  Not complaining by any means, just saying'…  Now being here we are available for everyone to ask us questions, so we get pulled in a million directions every day.  So amazing how much still needs our attention.
Bill also had to deal with the wine that he decided to move himself.  He did not count on us not having a driveway, so he esentially carried every box by hand from the old house, through the neighbors garage to the new house and down into the cellar.  Took him about 4 days, and the day the last case came it, we celebrated like no other.  What a chore and made much more difficult by the lack of concrete.  I gotta hand it to him, I would have been totally overwhelmed by day 2, but he did it and is so happy with the new situation!  Go Bill!
We said goodbye to our old house on Sunday the 29th and it was a major relief to be done.  Did a bit of cleaning (movers trashed the carpets and they had to be cleaned) and labeling of stuff around the house for the new owner and away we went.  Not having two places to even think about is a major weight off our shoulders.  Feels so good.  The new owner is doing her own remodel and will be tearing out all the flooring and possibly the cabinets (which we had redone only a year ago), so she will be having fun too!  I know she will like living there as much as we did.
The new house is relatively bare since we sold so much furniture and wanted to wait until we got here to figure out what would look right.  We need a lot of new stuff as this style of home is so different than our old house, so we spent a day buying furniture that is all on backorder.  lol.  Of course the one time I actually wait to get into a house to buy furniture, none of it is in stock.  Oh well, we're making due with what we have and it's not a hardship by any means.  Just excited to pull it all together.
So we're working things out, piecing in all together, and staying in a holding pattern on some things until other pieces fall in to place and we can move forward.  That's pretty much a summary of our status to date.  We knew things were not going to be perfect.  A few things have surprised us, but that's what you deal with when building.  My beloved refrigerator is too big for the spot in the kitchen, our washer died, our toilet tissue holders are not the ones we chose, the bathtub faucet is wrong, kitchen drawer handle is crooked, and Comcast still has work to do.  These are just a few examples of our first world problems.  Earth shattering stuff.  We are in.  We are so excited.  We are thrilled with the end product so far and loving every square inch of this place.  I really don't want to leave, but I have to travel for work next week.
I hope this gives you an idea of how it all went and what our status is as so many of you have been asking.  Apologies for taking so long to update, but I'm sure you appreciate the hectic nature of the last two weeks.  Once our furniture and decor come together a bit more, I will send some photos of how that is going.
Thanks for reading, and I will leave you with a few more photos of the outside of the house.
And last but not least, our new best friend.  Our neighbor's cat "Dusty".  My new love.