This post is called "Still Waiting…" because we are still waiting for our driveway.  It's getting very old.  Not that I am not grateful to be in this amazing house, but it is getting very old because so much other work (and getting all these contractors out of our hair) hinges on this driveway.  In addition, I have had just about enough of cleaning up mud, gravel and dust from the house due to everyone tracking in crap from the driveway!  The curb, sidewalk and approach have all been poured, thank goodness, (and hopefully will be approved), and next is the driveway.  But as usual, about 15 things have to happen before they are ready for the asphalt guys, so here we sit.  Rumor has it Tuesday might be the day, but we won't hold our breath.
Yes, I did carve our initials into the concrete down by the sidewalk, but don't tell anyone.  😉
I'm doing this update as we have begun to get a little settled and I thought you might be interested to see all the empty rooms you have been looking at for so long getting filled with at least a little bit of furniture.  We have a long way to go, but here's a glimpse.
I'll do the best one first…  Last year I saw the following wall hanging at a hotel and fell in love with the idea: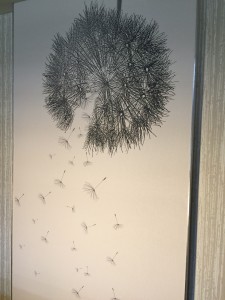 I was determined to incorporate that into our house at some point, and it finally came to fruition in our dining room!  Photos don't do it justice, it is amazing and Bill and I love it!  Also good for filling up VERY LARGE walls that we have.  Every wall hanging or piece of art we have looks like a postage stamp compared to the size of the walls.  It think it will be a while until we get stuff large enough to fill up wall space.
Master bedroom pretty well set up.  Bench was the final piece that came last week.  It was pre assembled which made Bill very happy.  He has put together so many pieces he's about done.
Lower level family room.  Very much work in progress, but we found a mini couch and filled the bar area with bar like items.
Living room.  We have a new couch coming as this one is a little big for the space and is sinking badly.  Also new coffee table on order and just taking our time with what we will do with end tables, lamps and a behind the couch table.  New rug in greens and earthtones to break up all the gray and blue we have going on.
A bit of decor, but like I said, everything we have is SO small it looks silly.  My sister gave me that little bowl on the shelf for my birthday and it has been packed away ever since.  Looks great with the colors, great choice MK!!!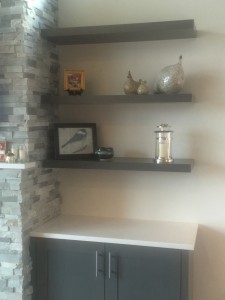 Bill's office.  We laughed when we put his very traditional desk in this more modern space as it looked a little odd.  It's a good desk for him, though and sticking with it.  If you look on the left side of the photos you can see a table.  That is Bill's old school briefcase from years past that I made into a table for him as a housewarming gift.  Had to keep some traditional and nostalgic touches.
Karen office.  Space from which I wield power. haha  And killer view.
MagnaMemos studio.  Now this space is just unreal.  Pretty much put all my stuff in one room instead of having it spread out all over the place.  Much neater and out of the way.
Laundry room/pantry/mud room/catch all room.  Come straight in from the garage door.  Really working out well.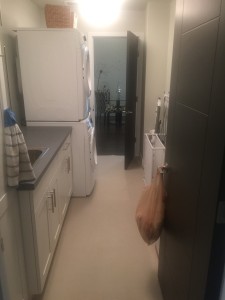 Front entry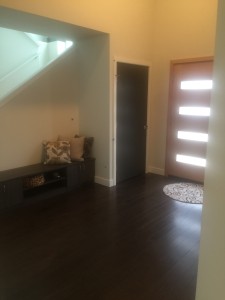 Lower level gym
And last but not least, another neighborhood cat that REALLY wants to come inside.  And a good shot of our back patio area which is still also a major mess.  Been staring at the pile of gravel for 2 weeks now.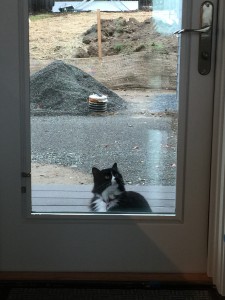 We're getting there, but so happy to be in!  I'll probably do one or two more posts to show you all the driveway and some really finished photos (may be a while), and then wrap up this portion of the blog and move on to something else.  Hopefully MagnaMemos related as I start to get back in the swing of things.  Have a great holiday everyone!