Did I say things were happening? Well, that was the understatement of the century!!! Just as soon as those permits got issued, the crew showed up this past Monday morning at 8am to start demolition. I think the following photos are what most of you HGTV fans( and those generally inclined to enjoy stuff being wrecked) have been waitng for. Enough of the trials and tribulations of our finances, loans, changes in plans and communication with the builder (cry me a river), let's smash some stuff up!
I am really glad that a few of you got to see the house before, because it is mostly gone now. Here are before photos: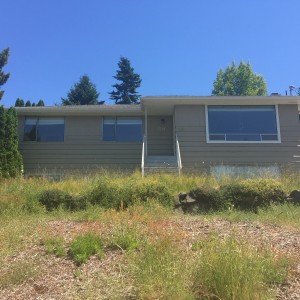 Now after photos: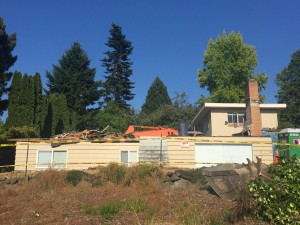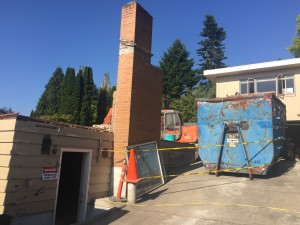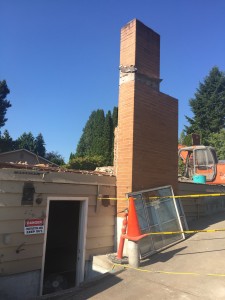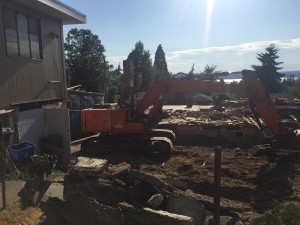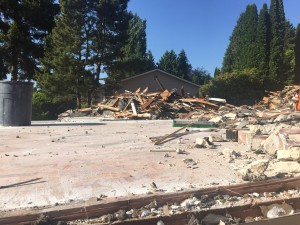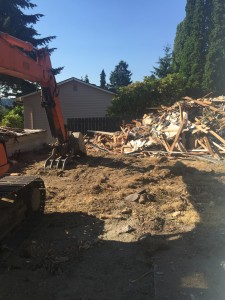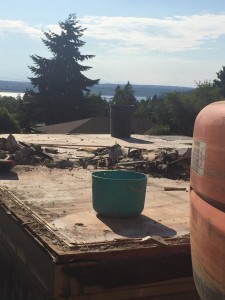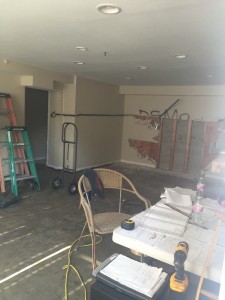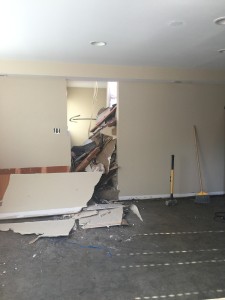 I was really hoping to be at the site when they took the first crack at the house, but the timing just didn't work out. Or better said, they move so fast, if you blink, you'll miss it… We blinked. They were long done by the time Bill and I arrived at around 5:00pm. We had spent the afternoon with the designer picking out finishes and we were so busy in the morning, we didn't get a chance to swing by. Bummer. We are hoping for some "in process" photos from the builder.
I also really want to operate the crane thingy that smashes stuff, but I think that's probably out of the question.  Don't wanna be this guy: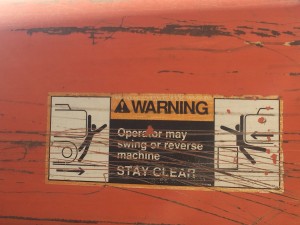 It is amazing how much they did in just one day!   Hope you can gather from the photos that the main level is gone.  The lower level is the foundation and we are working within that footprint with some reconfiguration.  Some may call it a basement, but we call it the lower level.  Our guest room is down there, and I refuse to have any guest stay in the "basement", so the rule is that it is called the lower level or garden level.  Still nice views from down there!  Saved ourselves a lot by being able to work within that footprint.  I was glad to see the chimney still standing as we decided to keep that at the last minute. Ya never know if the message gets communicated to the guys actually doing the work, but so far so good.
Some of the piles of concrete are the walkway and stairs in the back that Job Supervisor Adam said came out way to easily. There is a lot more walkway that needs to come out (all that leads to the back yard), and he said that will not be as easy. Makes me glad we are keeping the front stairs. It was going to cost an additional 5-10K just to remove those so we opted to keep them (against Bill's better judgement), and Designer Darren assures us he can make them look nice and match the house. You can see the "stairs that go nowhere" here: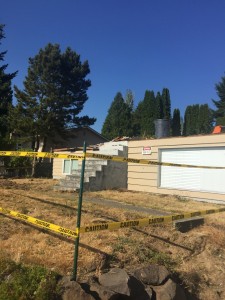 Next they will remove all the siding and finish taking out the windows that are being replaced on the lower level.  After that, they will start demo inside on the lower level which is being reconfigured.  Removal of inside stairs since they are going to be in a different location, opening it up down there and ceiling removal.  Then start digging a hole in the back for the foundation to be poured for the addition.  We're cooking' now!  It's incredible that we are doing this and I can't describe the excitement to see things getting started.  And it's happening so fast, I feel like I can't keep up!
Now a change of gears…
So as I said, we spend a good deal of time with Designer Tom this week. This is our second visit with him. Great guy, really easy to work with. He's the one that does all the tile, flooring and a few other finishes. The first visit we had a couple weeks ago we picked out some thngs but after that exhausting session he wanted us to go look at some houses and get more ideas and really think about what we liked. We must have been all over the place on the first visit. I think perhaps he wasn't convinced we knew what we wanted. He was right, we really didn't. Looking at houses helped a lot, and seeing some of the finishes on a large scale was good for us. We looked at as many as we could, and also reasearched more online. We scheduled a follow up meeting for this past Monday to refine our choices.
We met at a construction site so we could take a look at more examples of styles in new homes. Again, very helpful. Then we went back to the showroom and started to make some decisions. Still pretty daunting task… Lots of rooms to cover and not knowing how things are going to look or feel is really challenging. But we stuck with things that we loved and did our best to tie it all together.   I think we have made some good choices and expressed ourselves nicely without getting too crazy. Designer Tom kept us on track and made sure we stayed in budget and allowed our personality to come through while keeping with good design. Bill and I work really well together (no surprise there), and liked pretty much all the same things. It was really fun and especially so when you agree! There are things one of us doesn't have a strong feeling about, so we defer to the other to make the decision. Worked well and we had a lot of fun. I hope I remember this when we run into issues which invariably we will.
So here are some of our selecitons. Hard to get a good feel, but I'll post them anyway…
Floor all through the main level: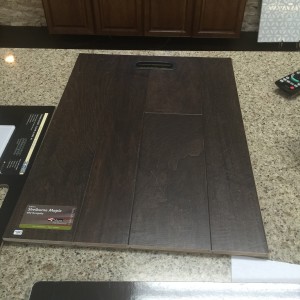 Master bath shower floor tile (flat river rock look – very cool), shower wall tile (keeping neutral), floor tile, and accent piece (the wavy one)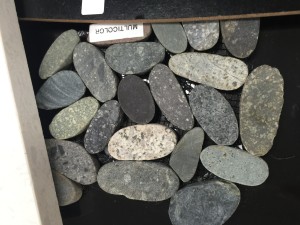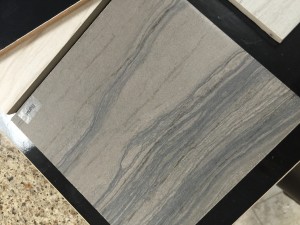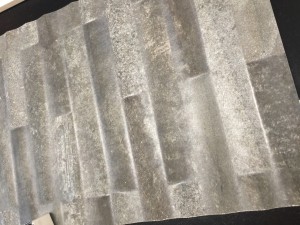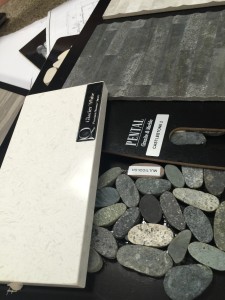 Kitchen perimeter quartz countertop.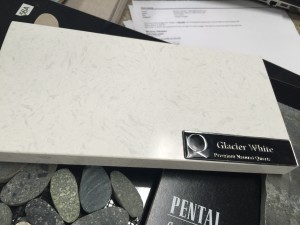 Island quartz countertop (piece on the left) – We originally just wanted to do the white marble look for the island, but the builder and Designer Darren implied that maybe we should consider going with more of a "statement" piece for the island. At first we didn't think we needed to make any "statements" (just not our style). But then we saw this very intereting quartz with a color scheme and design that really appealed to us, and suddenly we became "statement" people.  This process does crazy things to you…  Photos do not do it justice, it has blue and gray green tones which are tying back to other elements in the house.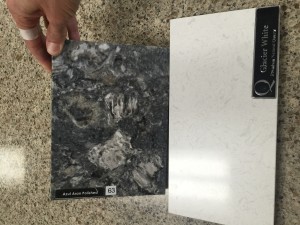 Main level fireplace surround.  LOVE!  Basically the cornerstone of all the other finishes throughout.  We both were wowed by this when we saw it in person.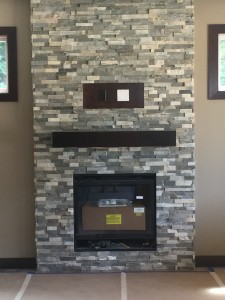 In the laundry room I am going with laminate on the countertop and floor as I don't really need granite or quartz in there, but am doing a "bubble" backsplash just 'cause I can.  I say "I" because Bill did not have much choice.  Get it?, bubbles, laundry…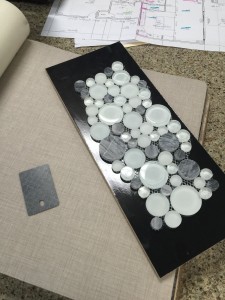 Moving really fast now, so stay tuned. I think that's all for today, let us know what you think, we would welcome the feedback!