Here's the latest photo of the outside of the house (top)so you can get a sense of progress.  It probably doesn't appear from this photo that much more has happened further to the framing, but the framing was completed and the roof put on.  They built the entire addition as well which is basically our garage with our bedroom and bill's office above it.  I particularly like the pool out front.
You may notice in the back of the photo that the old garage (original) is still standing.  This has been a spot that has been helpful for the crews working on the house.  Lots of storage, and essentially an office area and breakroom for them.  They are trying to keep it up as long as possible as it is a great resource for them, but it will be coming down in September.  That is going to change the look of things a lot!
Overall, things are looking really good.  The windows give us a better sense of how this is going to turn out, and since you are all aware of how fixated I have been on the windows, I will tell you that I have more than made up for not feeling involved in window selection.  The sliders you see in the front are 6' tall sliders (more recent photo on top).  We are changing that and putting 8' sliders in there instead.  The ones you see here are coming out!  This change came because for a time during framing, the entire front side (where you see the sliders and upper windows) of the house was completely open.  It was just one big hole with an unobstructed view (see the photo on the bottom).  So when they put in the sliders, divider between, and upper window, and we stood inside, the divider seemed to cut off the view.  It's a funny thing because the view is awesome no matter what, but why not maximize?  Haha…   It turns out the 8' sliders are not much more expensive and the builder has another job he can use the 6' slider, so we don't lose anything.  Very cool.  So we are trading these 6' sliders in for 8' ones and it is going to be spectacular.  Now, what we are going to do about window coverings is another story.  Ugh.
We are also going to add side lights to that lower window you see on the right that you can see a bit from the photo below.  It is now centered with the window above and then it will have two crank open side windows for additional light in the lower level.  Window in kitchen is going to be a casement crank window as well, and we are adding two windows to the living room wall to the north to add some light from that side.  I think with all that in place I will stop obsessing about windows now.  Whew, wasn't sure I could get over that one, but I feel much better now.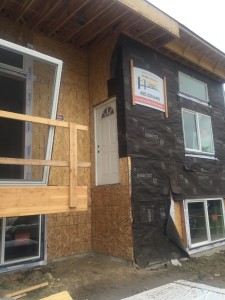 It's been interesting for us because it has been a much more fluid and flexible process than we expected.  Once we got those drawings done, we felt pretty locked in.  It was nerve racking doing the design on paper as it seems so set in stone. Turns out it really isn't.  For a few weeks in August, we were over there quite a bit making decisions as to how things should look.  There have been a couple walls that they did not even frame because the builder and designer wanted to have a discussion with us as to how things looked and felt.  This was especially true for the living and dining area.  We have a pretty open/great room area with our kitchen/living/dining combined.  The problem is that since that area is the main section of the house that falls into the footprint of the old house (think outline of the foundation), it is not quite as spacious as we hoped.  We knew from the drawings that it was not a large space, but seeing in person it felt even smaller.  We had one area designated for living and the other for dining.  We wanted the dining to be right in front of those sliders for that indoor outdoor dining feel, but that meant the living room was getting a bit mushed into a corner.  Then it hit me (yes, I also moonlight as a designer) to flip the living and dining.  This has changed the face of everything.  It has opened up the room a lot and given us a lot more options.  It meant moving the fireplace and feature wall, but turned out to be even better as you will actually see it when you walk into the room.  Hard to really explain in this blog and unless you're looking at the plans everyday like we are, it may be lost in explanation, but trust me, it was a big deal.  The designer was very impressed and went to work on updating the plans to reflect this.  It also eliminated the need to move a wall in the old dining room so we were still in the good graces of the framing guys.  This photo is of the living and dining room combo.  You can see at the far end the fireplace which will be floor to ceiling tile and built in cabinetry on the sides.  That's where the dining room was going to be, but we moved it to the other side.  To the right you can see the drop down from the high ceiling and that's the kitchen to the right.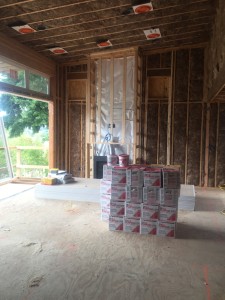 Also been juggling some things around to gain space in our back patio.  In short, we are limited on the square footage allowed on the back patio because only a certain percentage of our lot coverage can be impervious.  It's complex, but think of it this way as an example…  If we pour a solid concrete driveway we can get a 9'x 10' patio off the side/back of the house.  If we put a strip of grass up the center of that concrete driveway, we can do a 12' x 12' patio.  Since you are adding pervious material to that driveway, you can do a partial impervious material on the patio (pavers).  Pretty interesting, but the one thing we adore about our current home is our large back patio, and because of the amount of impervious coverage we have on our lot (because most of it is house), we weren't going to get much of a patio off the back.  So we had to make a few adjustments like adding a paver pad and some grass here and there to gain more patio.  I think we have achieved that and we are going to have a fabulous back yard/patio area.  Bill's standing on it in the photo below, and still have views!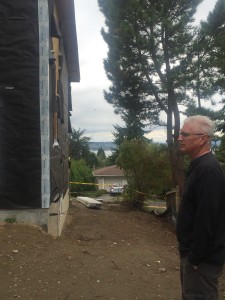 After a couple adjustments to our master closet size and main level bathroom to make them both larger, we were ready for electrical and plumbing.  This is when things started to slow down.  Electrical, plumbing and AV wiring just takes a lot of time and so weeks have gone by and it seems like nothing is happening, but I know they are working away on these things.  But even having said that, there has actually been a legitimate slowdown in the pace of work.  It is high season for construction, and sometimes the electrician or the plumber only has one guy on our job.  Our builder is having a major challenge getting full crews to work on our project.  Even crews he has worked with for years are just too booked up to come work on our house.  He also was getting close to scheduling his drywall crew, but when he reached out to them, they were too booked up and could not come when he was planning.  That is a major part of the process and could really mess up our timing if we can't get that scheduled.  Happily after a couple week delay he found a different crew and got them on the calendar and things are moving forward.  Whew!
So it's been a bit "hum-drum" just looking at a bunch of wires coming out, and plumbing getting in place.  Still amazing how many decisions need to get made.  "So, where are you going to put your desk in this room?"  "Where do you need your outlets?".  I have no idea.  We just used our best judgement and are hoping for the best.  Can lights are going in, AV guys were over mapping out the speaker locations and lots of speaker wire getting run…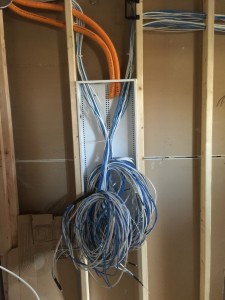 It was so "hum-drum" that we hadn't been over there in about a week, but decided to go over Sunday to see if we were getting close to dry wall.  We saw that not only to they have the dry wall crew scheduled, but the sheet rock is in the house and the insulation is in place.  I think they have to have all of that inspected before the dry wall crew can start, but once we get by that, the house will really start to take shape.  But even just with the insulation in place the house looks and feels very different.  Here are a few photos.
We also made a big decision and one that my mom will be very happy with and that is to get rid of the stairs out front.  It was mainly a cost issue that was making it easier to keep them, but now we have a bit more flexibility financially and they decided it wasn't going to be such a big job, so stairs are now gone…
Before: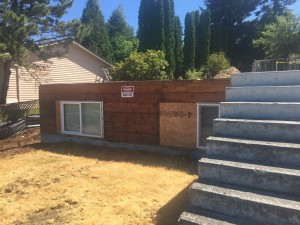 After:
So the last bit is about the sale of our current place.  Many of you saw on FB that we sold our house and are going to be renting back to the new owner until our house is done.  Can't believe how amazing it is that it happened this way.  We closed on August 31, and dropped one mortgage and a home equity loan.  What a good feeling that it!  Didn't have to put it on the market, didn't have to "de-clutter", clean, paint, make changes, tidy up, deal with showings, deal with agents, go back and forth on a million issues.  Just found a buyer and sold it.  Saved us a lot of hassle and money.  We just couldn't be happier and feel more fortunate.  We have a rental agreement with the owner until the end of November, and the builder is still shooting for us moving over Thanksgiving weekend.  That is the goal and looking good so far.  That will be here before we know it.  Maybe I should start packing…