I'm stealing away for a few minutes to post, which is increasingly difficult.  Insanity has set in, we are really close now…  I think we are looking at about 4 more weeks and we should be starting to make our transition.  Can you believe it?  We are so excited we could burst.  But our excitement is tempered by some things that are required to get to the end.  We have some issues with the sidewalk now and the city sewers and storm drains that are going to drain our budget even further.  This is all part of the sidewalk we are required to do based on the scale of the remodel we are doing.  Basically extortion from the city, but whatever.  It's getting a little more complicated, but we have to stay focused on getting to the end.  Lots still to be done and we are in crunch time.
But here are a few photos to give you an idea of how things are coming along.  Things have progressed even further than these photos reflect, but challenging to keep up.  I will take some additional photos this week and post them so you can see how much more progress we have made.
Kitchen cabinets in.  This is pre granite installation.  Photos with granite in this post too.
Living room fireplace and built ins to the sides.  Look at those windows!!!  The entire area above the fireplace will be stacked stone going in next week.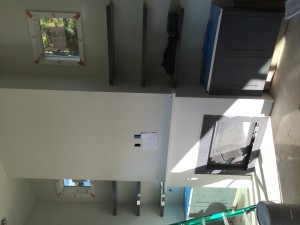 Quartz counter tops went in this week and they are awesome!!!  Loving how the kitchen is turning out.  While we were there looking some things over we got to see them installing all this and had to make critical decisions on where exactly to place our sink faucet.  Took us 20 minutes to decide.  We think we like it better when they just decide and don't involve us.  Too stressful  – lol.
Master bathroom floor and vanity.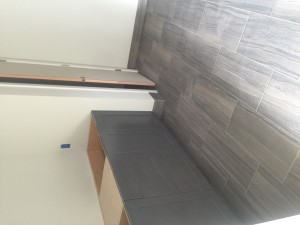 Floor and shower stall with our river rock shower floor.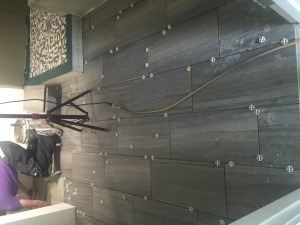 Main floor bath.  White glossy subway tile that I thought I would hate but our designer told me to trust him.  It looks amazing.  This is pre accent tile, which also looks amazing.
Wine bar area on the lower level.  This will have a granite counter top cut around the barrel.  Barrel obtained from our friend Morgan of Two Vintners.  Little trading going on there…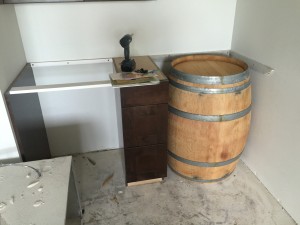 A few samples of our window coverings.  Doing roller shades in most and a massive paneled draw shade on the big slider in the living room.  Wanted to put a motor on it so it could open and close automatically, but it is too big to do that and has to be on a cord.  bummer, but I will be working my muscles on that one.  Turns out Bill has a very good eye for this stuff, some of these are his choices!
Gym: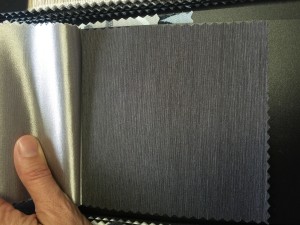 Lower level family room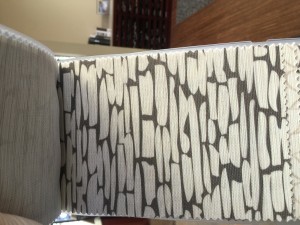 Karen Studio (of course)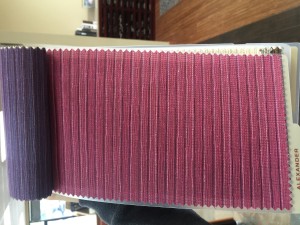 Main House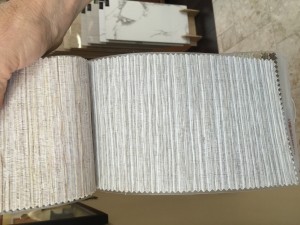 Master bedroom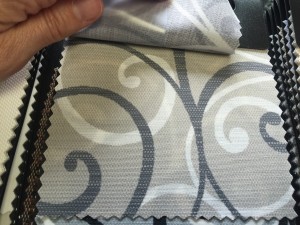 Here's how the schedule looks for our remaining weeks.  Painting this week, floors and 2nd round of tile installation next week, then electrical, plumbing and AV stuff.  Then we have to sprinkle in our own stuff like closet installation, window covering installation and landscaping, which should be mid november, and then we can start slowly moving.  Hooray!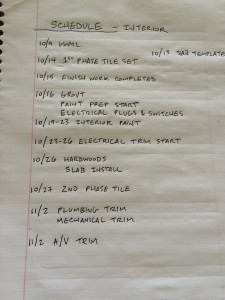 More later, gotta run…