Don't blink on this house construction, 'cause you'll miss most everything.  We keep blinking…
House was bustling with activity yesterday after a quiet friday/saturday.  Cabinets delivered:
Lotta boxes and they are well protected until they get to them, but you cannot move around in the house!  I am wondering what the tall one in the back is.  The fact that I don't know is scary.  I know we ordered something like that, but cancelled it for the kitchen, so I'm hoping it's the laundry room piece.  Took a peek in the boxes and pretended they were wrong to send the foreman into a panic.  I'm so mean, but I just can't help myself.  We did have a good laugh.
Young crew busy at work putting the trim on.  They will also be doing the cabinets, and rumor has it they will be totally done in 7 days.  So they have most of the door trim done, which means they have installed the interior doors.  Happy with our choice here.  We have 6 panel traditional doors in our current house, and I'm glad to move into a less dust collecting door!
Doors will be painted brown to mimic the floors, these are only primed right now.  I'm not sure why they hung them before they were painted.  I'm assuming they will take them back down to paint and the trim guys just wanted to get them set and level in the doorways while doing the trim.
And most exciting of all if the finishes have been delivered.  Got to see all of our choices in person and larger samples.  So far so good!
Bubble for the laundry room and river rock for the master shower.  Made a last minute change on the river rock, and so glad we did!
With the demolition of the garage complete, we were just waiting for them to haul away the last of the debris, and that has been done now.  They also removed the chicken coop and other creepy out building that was on the back lot.  I assume they did this now as it is more cost effective, because the last priority we have is to put any money into the back lot right now considering how tight we are on budget.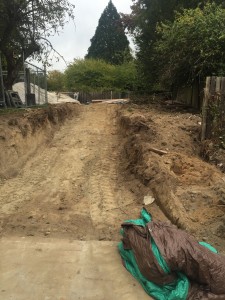 The idea about subdividing the back lot is still alive, and the designer and builder are doing what they need to do with the city to get initial approvals and ok to move forward with the subdivision.  Remember, we still need the neighbor to give us some land.  We are treading lightly as we're not quite ready to dive into that right now.  We need to get this house finished and then we can focus on that piece.  There are, however, a few things we can do now to get the ball rolling without investing any money, so we are doing those things and will see if the plan works for us.  More to come on that I'm sure.
Now we are in to final decisions on plumbing fixtures and lots of other "little" things, but this is when you really start to tear out your hair.  We are pretty worn down at this point and now find ourselves saying "whatever" quite a lot.  Glad this is getting close.
Hopefully more updates after the next blinking.